Apophis (Apep), the Egyptian God of Chaos and Destruction
Are you looking to learn more about the ancient Egyptian gods? Have you heard of Apophis (Apep) and want to know more about this mysterious god of chaos and destruction? If so, then this blog post is for you! Read on to learn more about Apophis, the powerful deity who threatened Ra and all of Egypt.
Introduction to Apophis
Apophis, also known as Apep or Apepi, is an ancient Egyptian deity who embodies chaos and darkness. He is the eternal enemy of Ra, the supreme god of the Egyptian pantheon. Apophis was seen as a terrifying serpent-like creature that inhabited the underworld and sought to destroy all things on earth. He was a symbol of primordial chaos and non-being, embodying all that was outside the ordered cosmos. Apophis has been seen as both an antagonist and an important figure in Egyptian mythology, representing chaos, evil, destruction, and all things outside creation. Despite his destructive nature, he was also viewed as a powerful force for transformation and healing.
Origins of Apophis in the Ancient Egyptian Mythology
Apophis (also known as Apep) is the ancient Egyptian god of chaos and destruction. He was one of the main enemies of the sun god Ra and embodied darkness, dissolution, and evil. According to mythology, Apophis was a giant serpent who constantly threatened to disrupt Ma'at (harmony) in Ancient Egypt. He was believed to lurk in the underworld, waiting for his chance to attack and destroy Ra's great barge as it sailed across the sky every day. The gods would often have to battle Apophis back into his lurking place every single night so that life could continue as normal during the day. Apophis' origins lie in pre-dynastic times when he was thought to be associated with izft, or chaos. It is said that he represented primordial chaos that existed before creation took place and it is because of this that he is regarded as such an important figure in ancient Egyptian mythology.
Characteristics and Appearance of Apophis
Apophis, also known as Apep, is the Ancient Egyptian god of chaos and destruction. He is depicted as a giant serpent with a body that can stretch up to 8 men long. He is the sworn enemy of the Sun God Ra and represents chaos and darkness in its purest form. Apophis has been described as terrifying and evil, embodying all that is chaotic and destructive in the world. He was thought to be responsible for natural disasters such as floods, storms, earthquakes, and other acts of destruction in ancient Egypt. His appearance could change depending on his mood; he could sometimes appear as a giant snake with glowing eyes or a massive black cloud filled with darkness. Apophis was believed to be powerful enough to challenge Ra himself if given the chance; luckily this never happened!
Connection Between Apophis and the Ancient Egyptian Gods
Apophis (also known as Apep) was an ancient Egyptian deity who embodied chaos and destruction. He was the arch-enemy of the sun god, Ra, and represented the forces of darkness in opposition to light. Apophis is believed to have been part of a complex relationship between him and the other gods of ancient Egypt.
It is thought that he was closely connected with Set, another god associated with chaos and destruction. As they were both enemies of Ra, it is believed that they often worked together to oppose him. Furthermore, Apophis was seen as an equal counterpart to Isis; while Isis represented fertility and growth, Apophis stood for death and decay. This further strengthens their connection since both gods combined represent a balance between life and death in Egyptian mythology.
In addition, Apophis had a close relationship with Hathor, whose name translates to "House of Horus". Horus is considered a solar deity who protected Egypt from its enemies; thus his connection with Apophis can be interpreted as a representation of balance between light and darkness within Egyptian culture.
Overall, it appears that Apophis had strong ties with many ancient Egyptian gods including Set, Isis, and Hathor; this further emphasizes his status as a chaotic force against light in Egyptian mythology.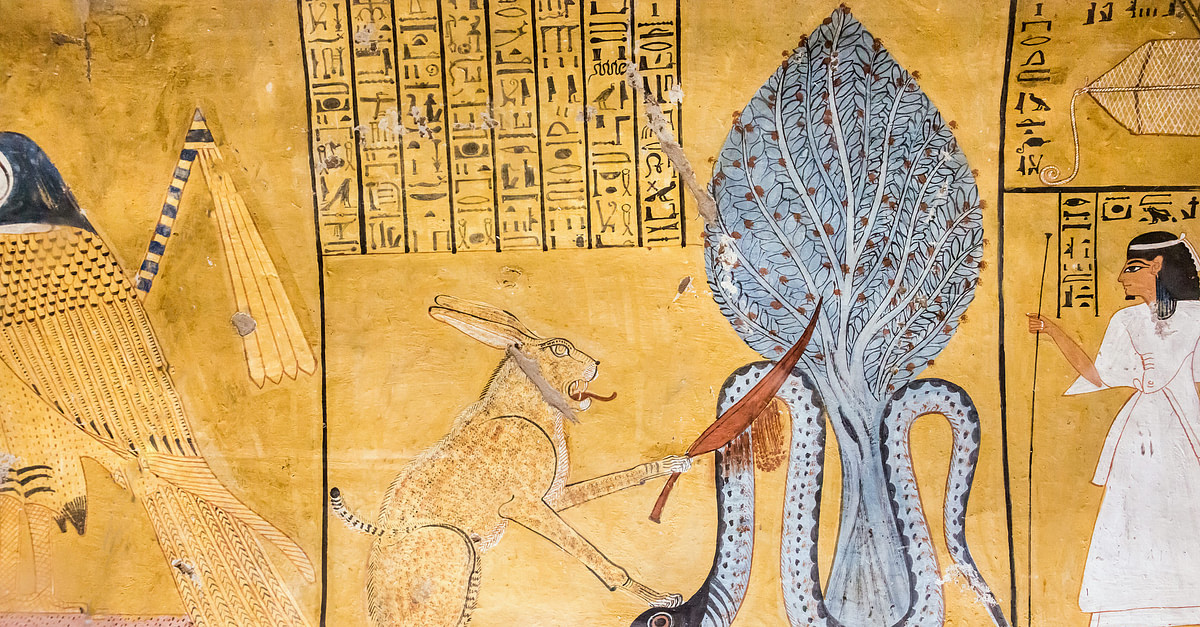 Role of Apophis in the Creation Mythology
In Egyptian mythology, Apophis (also known as Apep) was the great serpent, the enemy of the sun god Ra. He was seen as the embodiment of chaos and darkness and represented everything that threatened order and balance in the world. As an adversary to Ra, he sought to destroy creation by devouring the sun god's barge every night in an attempt to bring about eternal darkness. In some creation myths, Apophis is even said to have challenged Ra himself as they sailed through the underworld. To preserve creation and prevent chaos from taking over, Ra would have to defeat Apophis in battle every night. Although his efforts were ultimately unsuccessful, it is said that his challenge kept order alive in Egypt for centuries.
Representation of Chaos, Destruction and Evil in Ancient Egypt
In ancient Egypt, Apophis (also known as Apep) was a powerful deity that embodied chaos, destruction, and evil. He was the sworn enemy of Ra, the Sun God and his nemesis. According to Egyptian mythology, every night Apophis would try to destroy the sun god by plunging the world into darkness and chaos. To protect Ra from Apophis' wrath, Egyptians would perform rituals in order to appease the dark god.
Apophis was seen as an embodiment of chaos and destruction in ancient Egyptian culture. He represented everything that Egyptians feared most – a chaotic force that could bring about destruction and death. As such, he was one of the most important gods in Ancient Egypt with temples being built in his honor throughout the country. This god of evil also had many siblings who were some of Egypt's most prominent deities including Ra himself.
The worship of Apophis is still alive today with modern practitioners offering him sacrifices for protection against evil forces. Despite his reputation as an evil entity, he is still respected by many due to his power over chaos and destruction which can be beneficial if used correctly or disastrous if uncontrolled or misused.
The Battle Between Ra and Apophis
Apophis, also known as Apep, is an ancient Egyptian god of chaos and destruction. He was the primary enemy of the sun god Ra and the embodiment of darkness and evil in ancient Egyptian mythology. Already present before the creation of the world by Ra, Apophis was a powerful entity that threatened to consume Ra and destroy his kingdom.
The battle between Ra and Apophis was legendary, with both gods engaging in epic confrontations in order to gain control over Egypt. Apophis would often rise from the Underworld with a plan to consume Ra; however, most battles ended in stalemates due to their equal powers. Despite this, both gods continued to fight for many years until finally, Ra managed to imprison Apophis within an immense iron box located at the horizon's edge. This imprisonment caused chaos on earth as Apophis's power was no longer being held back. As such, it was up to Ra's priests and followers to keep his enemies at bay by reciting magical spells that kept them away from Egypt's borders.
Apophis remains imprisoned today; however, legends state that he will one day break free once again and reengage in battle with Ra for control over Egypt's kingdom. It is unknown who will prevail when this time comes but it is certain that their epic clash has captured imaginations around the world for centuries—a testament to how powerful these two gods truly were!
How Did Ancient Egyptians View Apophis?
The ancient Egyptians viewed Apophis, also known as Apep, as the embodiment of chaos and destruction. He was the primary enemy of Egypt's sun god, Ra, and was seen as a giant serpent that threatened to plunge Egypt into darkness. As such, Apophis was revered by some people as a powerful force capable of wreaking havoc and destruction on their land. However, he was also feared by many for his ability to bring about death and suffering. Apophis presented a real threat to the lives of Egyptians and so they prayed for protection from him in their daily lives. By invoking the power of Ra they hoped to ward off his evil influence. To further protect themselves from his destructive powers they would often burn incense or recite spells to keep him at bay. It is clear that ancient Egyptians viewed Apophis with both awe and fear – a testament to the power they believed he held over them!
Depictions of Apophis in Art Throughout History
Apophis, also known as Apep, is a god of chaos and destruction in ancient Egyptian religion. He is often depicted as a giant serpent that threatened to devour the sun god Ra. Images of Apophis have been found in many different forms throughout history, ranging from paintings and sculptures to hieroglyphics.
In some depictions, Apophis was shown with a human head and body, with the lower half being a huge snake. Other depictions showed him with the full body of a giant serpent. He was often shown hissing or writhing in anger against Ra's barge as it sailed across the sky.
Hieroglyphs were also used to depict Apophis' chaos-causing power. In these symbols, he was represented by an evil eye symbolizing his destructive gaze, and by symbols of fire associated with destruction and destruction-related activities such as earthquakes or volcanic eruptions.
Apophis has long been seen as an embodiment of chaos and destruction but more recent interpretations have suggested that he can be seen as representing transformation which leads to renewal or rejuvenation when properly managed – something which could be beneficial for both people and their environment in ancient times when natural disasters were common occurrences.
Whatever its true meaning may be, Apophis remains one of the most enigmatic figures in Egyptian mythology – one whose presence is still felt today through art depicting his chaotic form over centuries of time.
How Was He Worshipped?
Apophis, otherwise known as Apep, was the ancient Egyptian god of chaos and destruction. He embodied the forces of dissolution, darkness, and non-being, and as such was seen as the arch-enemy of Ra, the sun god. Although Apophis never had a formal cult or was worshipped directly, he was featured in many tales which sought to explain his efforts to destroy Ra.
In order to protect divine order (Ma'at) from Apophis' destructive power, ancient Egyptian monks and laypeople would perform rituals that sought to guard Ra against Apophis. Through these rituals, it is believed that a strong connection between the living world and the underworld could be achieved. The God of Chaos was usually depicted in art forms with a serpentine form – representing his chaotic nature – and sometimes said to have been formed from the umbilical cord of Ra.
The legends around Apophis reveal much about how he was perceived by ancient Egyptians – an embodiment of evil who threatened divine order by seeking to destroy light and truth. By performing rituals focused on protection against him they hoped to ensure harmony between life and death remained intact.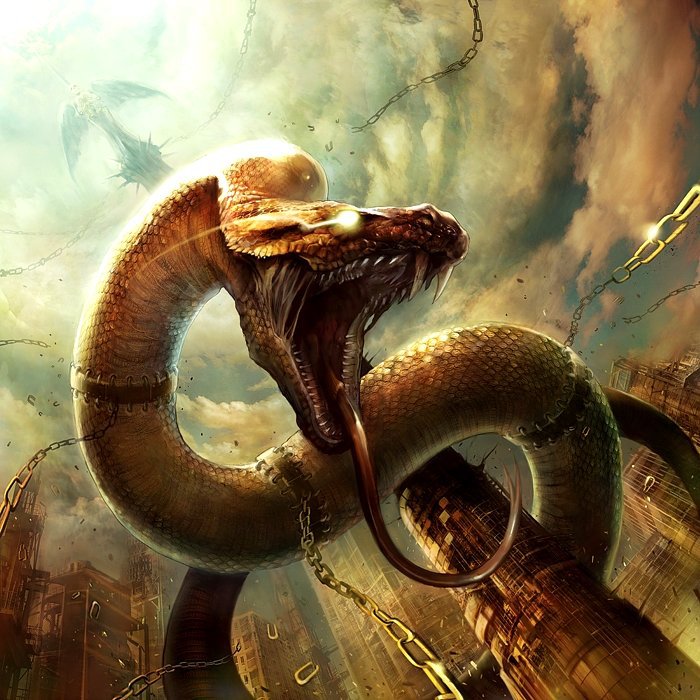 Rituals Involving Apep, The God Of Chaos And Destruction
In ancient Egyptian mythology, Apophis (also known as Apep or Aapep) was the God of Chaos and Destruction. He was depicted as an enormous serpent and was believed to be the adversary of the sun god Ra. Every night, Apophis and Ra would battle, with Apophis representing the forces of chaos and destruction attempting to disrupt Ra's passage through the underworld.
The Egyptians feared Apophis deeply, believing that if he were to succeed in consuming Ra then all life would end in chaos and darkness. To ward off this fate they performed rituals dedicated to protecting Ra from Apophis' grasp. These rituals included offerings of food, praising Ra, and invoking powerful spells against Apophis.
Apophis also had a role in other aspects of Egyptian religion; he is associated with death, evil spirits, and even Set — the god of war. He is remembered by many as "the Lord of Chaos" due to his destructive nature. This fear of him made him a powerful figure within ancient Egyptian society who could cause immense fear when invoked or mentioned by name during rituals or prayers for protection from evil forces or misfortune.
Popularity Of Apep In Literature And Movies
Apep, also known as Apophis or Aapep, is an ancient Egyptian deity who embodied chaos and was the opponent of light. He is often portrayed as a giant snake whose length is equal to 8 men. As the eternal enemy of Ra, the sun god and supreme god of the Egyptian pantheon, he represents destruction, darkness and dissolution.
Apep has been popularized in literature and movies over the years due to his menacing appearance and evil nature. He appears in some of Ancient Egypt's most famous stories such as "The Book of the Dead" where he battles against Ra for control of creation. He also appears in stories like "The Destruction Of Mankind" where he attempts to wipe out humanity with a great flood.
In modern culture, Apep has become a popular figure due to his presence in books such as Rick Riordan's "The Kane Chronicles" series, where he is described as one of the most powerful enemies that must be defeated by two siblings on their quest to save their father from captivity. Additionally, Apep appears in numerous movies such as Stephen Sommers' 1999 remake of "The Mummy", where he serves as one of Imhotep's minions who tries to prevent Rick O'Connell from stopping Imhotep.
Apep's popularity continues today with video games such as Assassin's Creed Origins featuring him prominently among its antagonists. Ultimately it seems that Apep will remain a part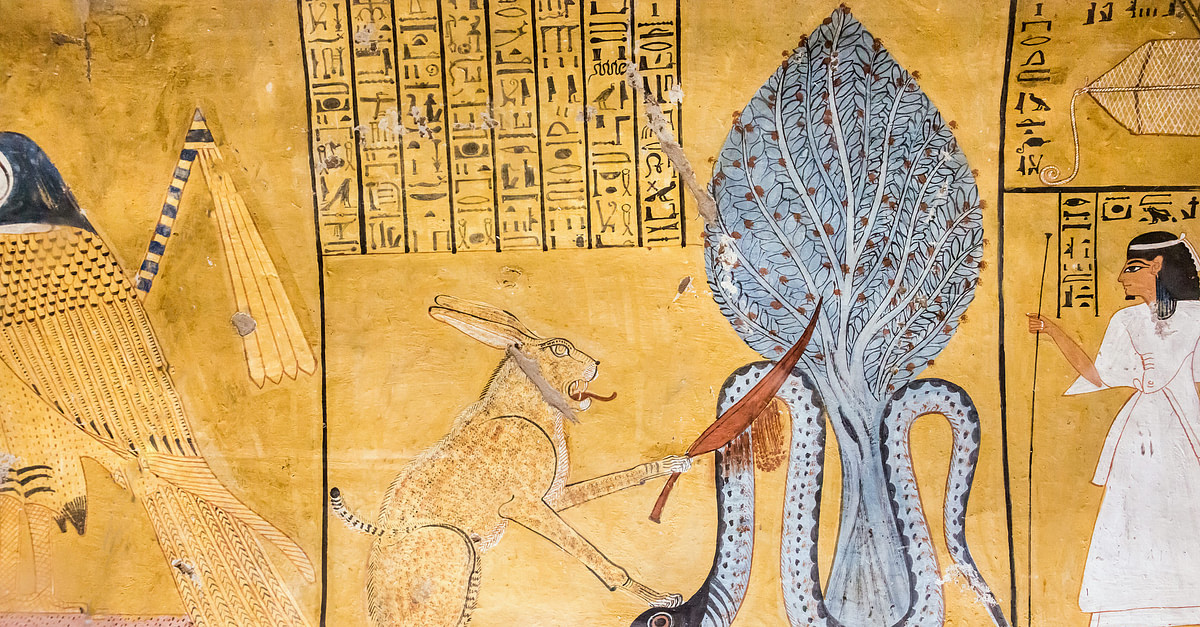 Relevance Of Apep In Today's Society
In ancient Egyptian mythology, Apophis (also known as Apep) was the god of chaos, dissolution, and destruction. He was the sworn enemy of Ra, the sun god, and personified evil in all its forms. The battle between Apophis and Ra was seen as a metaphor for the struggle between good and evil.
In today's society, Apophis still serves as an important reminder of the constant presence of chaos and destruction in our lives. It is easy to get caught up in day-to-day life while ignoring the darker aspects that are always lurking beneath the surface. Apophis' story reminds us to take time to reflect on how we can strive for order amidst chaos, both within ourselves and in our world.
The relevance of Apophis also lies in his ability to represent different aspects of our own struggles with darkness: fear, doubt, anger, or despair. He provides a tangible example of how we can fight these internal demons so that we can start moving forward toward a better future for ourselves and others around us. It is important to remember that although darkness may exist within us all at times, it does not have to define who we are or what we do; rather it should serve as motivation for growth toward positive change.
The Impact Of Apep On Pop Culture
Apophis, otherwise known as Apep, is an ancient Egyptian deity of chaos and destruction. He is often portrayed as a snake and was the primary enemy of Egypt's sun god, Ra. Since his first appearance in mythology, Apep has had a lasting impact on pop culture. From books to films to video games, he has been an integral part of storytelling for centuries.
In literature, Apep has played significant roles in works such as The Book of the Dead and The Epic of Gilgamesh. In film and television, he has made appearances in movies like The Mummy Returns (2001) and shows such as Stargate SG-1 (1997-2007). Video games have also featured him prominently; his influence can be seen in titles like Age Of Mythology (2002) and Assassins Creed Origins (2017).
Apep's presence in popular culture continues today. His legacy lives on through stories that explore his role as an antagonist who symbolizes chaos and destruction. His symbolic meaning also resonates with many people who are struggling with their battles against darkness or fighting for something greater than themselves. From children discovering stories about him for the first time to adults who continue to be inspired by his mythos, Apophis remains an important figure in modern culture that will continue to affect generations to come.
Conclusion
Apophis, or Apep, is the Ancient Egyptian god of chaos and destruction. He is depicted as a giant serpent, with some sources claiming he was as wide and long as 8 men. He is the sworn enemy of Ra, the Sun God, who battled him each night. His presence was a constant threat to all in ancient Egypt, even the gods themselves. It is through stories like these that Apophis has become one of the most famous figures of Ancient Egyptian mythology and remains an iconic symbol of chaos and destruction to this day.
Quick Facts: Apophis Egyptian God
Apophis was an ancient Egyptian god of chaos and destruction, often depicted as a giant serpent or dragon.
He was believed to be the enemy of the sun god Ra and was said to try to stop Ra from completing his journey across the sky.
Apophis was also associated with darkness and the underworld and was said to try to drag Ra down into the depths of the earth.
In some myths, Apophis was said to be the embodiment of isfet or chaos and was constantly trying to upset the order of the universe.
Apophis was one of the most feared gods in ancient Egypt and was believed to pose a serious threat to the survival of the universe.
To protect Ra and keep Apophis at bay, the ancient Egyptians would perform rituals and spells designed to repel the serpent.
Some scholars believe that the image of Apophis was used as a symbol of political enemies and that it was often invoked during times of political upheaval.
Apophis was sometimes associated with Set, another god of chaos and destruction, and was often depicted as a companion or ally of Set.
Some ancient Egyptian texts describe Apophis as being able to regenerate or heal himself, making him an even more formidable opponent.
The ancient Egyptians believed that Apophis had the power to swallow the sun, causing eternal darkness to descend over the earth.
Apophis was often depicted as a snake with many heads, each one representing a different aspect of chaos and destruction.
The ancient Egyptians believed that Apophis could only be defeated by the combined efforts of the other gods, who would have to work together to overcome his power.
Apophis was often invoked in magical spells and incantations, as the ancient Egyptians believed that he could be controlled or manipulated through the power of magic.
In some myths, Apophis was said to be the offspring of the goddess Nut and the god Set, making him a powerful and dangerous figure.
Apophis was sometimes depicted as being trapped beneath the earth, unable to escape and wreak havoc on the world above.
The ancient Egyptians believed that the serpent could be weakened by reciting certain spells and incantations, which would cause him to lose his power and influence.
Apophis was often associated with the color black, which was seen as a symbol of darkness and chaos in ancient Egypt.
In some myths, Apophis was said to have the power to transform himself into other animals, allowing him to sneak up on his enemies and catch them off, guard.
Apophis was often depicted as a god of darkness and shadow and was said to be able to move silently and unseen through the world.
The ancient Egyptians believed that Apophis could be appeased through offerings and sacrifices, which would help to calm his wrath and prevent him from causing harm.
Apophis was sometimes depicted as a god of storms and natural disasters, with the ability to unleash powerful winds and rains upon the world.
The ancient Egyptians believed that Apophis was responsible for many of the natural disasters that occurred on their land and that he had to be appeased to prevent further destruction.
Apophis was sometimes depicted as a god of darkness and ignorance, with the ability to obscure the truth and lead people astray.
The ancient Egyptians believed that Apophis could be defeated through the power of the spoken word, which could be used to undermine his power and weaken his hold over the world.
In some myths, Apophis was said to be able to control the minds of humans and turn them against each other, causing chaos and strife.
Apophis was sometimes depicted as a god of the dead, with the ability to send spirits back to the land of the living to cause trouble and unrest.
The ancient Egyptians believed that Apophis could be defeated through the power of the pharaoh, who was seen as a symbol of divine order and control over the world.
Apophis was sometimes depicted as a god of magic and the occult, with the ability to manipulate reality through spells and incantations.
In some myths, Apophis was said to be able to split himself into multiple forms, making him even more difficult to defeat.
Apophis was often depicted as a coiled serpent, ready to strike at any moment and unleash his destructive power upon the world.
The ancient Egyptians believed that Apophis could be trapped or confined through the use of magical barriers or other devices.
Apophis was sometimes associated with the constellation Draco, which was seen as a symbol of chaos and destruction in ancient Egyptian astronomy.
The ancient Egyptians believed that Apophis could be defeated through the power of prayer and devotion, which could help to strengthen the resolve of the gods against his attacks.
Apophis was sometimes depicted as a god of illusion and trickery, with the ability to deceive and confuse his enemies.
In some myths, Apophis was said to be able to travel through the waters of the Nile, making him even more difficult to track and defeat.
Apophis was often associated with the concept of "uncreation," which was seen as the opposite of creation and the destruction of all that exists.
The ancient Egyptians believed that Apophis could be weakened by exposing him to sunlight, which was seen as a symbol of divine power and order.
Apophis was sometimes depicted as a god of disease and illness, with the ability to spread sickness and plague throughout the land.
In some myths, Apophis was said to be able to transform himself into a crocodile or other large reptile, making him even more dangerous.
Apophis was often associated with the concept of "non-existence," which was seen as the ultimate form of chaos and destruction.
The ancient Egyptians believed that Apophis could be defeated through the power of music and singing, which could help to soothe his rage and calm his power.
Apophis was sometimes depicted as a god of fire, with the ability to unleash flames upon the world and burn everything in his path.
In some myths, Apophis was said to be able to control the weather, causing storms and floods to ravage the land.
Apophis was often associated with the concept of entropy, which was seen as the gradual breakdown of all order and structure in the universe.
The ancient Egyptians believed that Apophis could be defeated through the power of love and compassion, which could help to overcome his rage and bring him back to the path of order.
Apophis was sometimes depicted as a god of temptation, with the ability to lure people into chaos and destruction through their desires.
Apophis was often associated with the concept of "the void," which was seen as the ultimate form of emptiness and nothingness.
The ancient Egyptians believed that Apophis could be defeated through the power of sacred geometry and numerology, which could help to unlock the secrets of the universe and weaken his hold over the world.
Apophis was sometimes depicted as a god of nightmares and dreams,